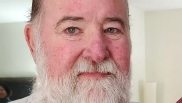 Giving the gift of life to my brother and Candy's husband Ted, a liver transplant patient.
$1,600
raised by 7 people
$10,000 goal
Ted Fish  
Transplant Type:  Liver
Ted needs a life-saving liver transplant to get back to enjoying life with his wife of 40 years.  
Ted Fish is a vibrant and social individual who has faced unexpected challenges and implications of end-stage liver disease, that have left him fighting for his life in the ICU. Ted's life has always been filled with joy, laughter, and a deep love for storytelling. When he's feeling well, he finds immense joy in hiking, riding motorcycles, and cherishing the precious moments with his loving wife and dog. In 2023 Ted celebrated being married to his wife Candy for forty years! Candy says that he is the embodiment of a "happy-go-lucky" spirit, always ready to spread positivity with his warm smile. 
In September of 2023 Ted and Candy's world took an unexpected and devastating turn. A severe storm struck, causing a prolonged power outage that lasted six days, accompanied by sweltering heat. With no electricity and the unbearable conditions, Ted's health began to deteriorate rapidly. He lost his appetite and couldn't seem to recover from the days without air conditioning. While of course uncomfortable, Ted and his wife were not sure why the heat was having such an impact on Ted. Then one day Ted had a fall that left him unable to get back on his feet. His wife, Candy, was unable to assist him, leading to a desperate call for help from the fire department. Initially, doctors believed Ted's troubles were due to high blood pressure and sugar levels. However, a series of tests revealed alarming liver numbers and raised concerns about his kidneys. 
The situation escalated rapidly, and specialists confirmed the urgent need for a liver transplant. Determined to regain his health, Ted and Candy have made some lasting lifestyle changes. Yet, the road ahead is filled with uncertainties. Neither Ted nor Candy are currently working.  Ted recently lost his job and Candy had to stop working in order to care for Ted's extensive needs.  
Unfortunately, Ted's new liver comes at a very high cost.   
The average liver transplant costs more than $800,000. Even with the support of health insurance, Ted still faces significant medical expenses following his transplant. Post transplant there will continue to be pressing financial needs including lifetime follow-up care and costly medications. Ted and Candy also live far away from Ted's doctors requiring them to drive 120 miles for care. In addition to the transportation costs, the couple also needs to cover lodging and food during their stays near the hospital. After Ted receives his new liver, they will be required to stay near the hospital for at least thirty days.   
Ted's life is a testament to the resilience of the human spirit, and your support can make a profound difference in his journey towards recovery. He dreams of returning home, sharing stories with loved ones, and embracing a long and healthy life alongside his devoted wife.
You can help by making a tax-deductible donation to the National Foundation for Transplants in honor of Ted.   
If you'd prefer to send your gift by mail, please send it to the National Foundation for Transplants, 3249 W. Sarazen's Circle, Suite 100, Memphis, TN 38125.  Please be sure to write "in honor of Ted Fish" in the memo line.
Thank you for your generosity!
Transplant Center:   Integris Baptist Medical Center (Transplant Center)
If you have any questions about The National Foundation for Transplants, feel free to contact the staff at 800-489-3863.