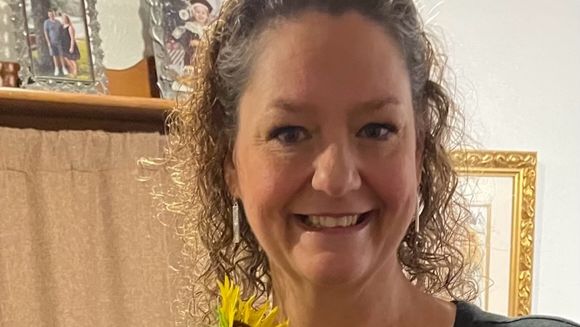 $0
raised by 0 people
$10,000 goal
Rebekah Goudie  
Transplant Type:  Liver
Rebekah beat cancer and is now awaiting a lifesaving liver transplant.  
Meet Rebekah Goudie is a medical professional, a dedicated crafter, and a cancer survivor. Rebekah's medical journey began in 2007 when she was diagnosed with a fatty liver. Over time, her condition escalated, leading to the discovery of multiple tumors in her liver and in June 2022 she received an additional diagnosis of HCC, Hepatocellular Carcinoma. These diagnoses were a shock to Rebekah, as she has no known family history of liver disease. Rebekah's condition was caught early, thanks to yearly liver ultrasounds, which detected the HCC diagnosis before it began to cause Rebekah pain. Rebekah experiences extreme fatigue and discomfort and remains profoundly grateful for the love and support of her family and friends. 
Rebekah's family includes her devoted husband, David, whom she has been married to for over 25 years. Together, they have two wonderful children, Kristin and Seth. While Rebekah's mother-in-law, Carol, resides nearby, the rest of her family lives out of state, with her mother, Judi, approximately 8 hours away in SE Arkansas. 
Rebekah has always been one to offer help, rather than request it. However, her journey with this illness has illuminated the importance of accepting support from loved ones. Her family is understandably concerned, yet they hold steadfast faith that whatever unfolds is part of a greater plan. Rebekah is deeply grateful for their unwavering support. Rebekah's medical team has made the decision that a liver transplant will provide her with the means to survive.   Though, the process is not easy.   Rebekah is waiting patiently to be added to the liver transplant waiting list, currently waiting for the approval from a transplant committee to give her this opportunity. 
Unfortunately, Rebekah's new liver comes at a very high cost.  
The average liver transplant costs more than $800,000. Even with the support of health insurance, Rebekah still faces significant medical expenses following her transplant. Post transplant as Rebekah focuses on her recovery, there are pressing financial needs including lifetime follow-up care and costly medications. 
Rebekah wants nothing more than to be able to craft and spend time making memories with family.  
Rebekah's happiness stems from her family, friends, co-workers, and a deep love for animals. She has a passion for arts and crafts, though her current health limitations have temporarily set aside her creative pursuits. Additionally, she used to delight in reading, a pastime she looks forward to rekindling once she has fully recovered. The prospect of a successful transplant is a beacon of hope for Rebekah. She anticipates regaining her health, alleviating her family's concerns, and resuming her role as the caregiver for her loved ones. Her heart brims with excitement at the thought of creating beautiful memories together and sharing her story to offer solace and guidance to future transplant recipients.
You can help by making a tax-deductible donation to the National Foundation for Transplants in honor of Rebekah.  
If you'd prefer to send your gift by mail, please send it to the National Foundation for Transplants, 3249 W. Sarazen's Circle, Suite 100, Memphis, TN 38125.  Please be sure to write "in honor of Rebekah Goudie" in the memo line.
Thank you for your generosity!
Transplant Center:   Integris Baptist Medical Center (Transplant Center)
If you have any questions about The National Foundation for Transplants, feel free to contact the staff at 800-489-3863.