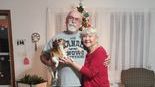 $400
raised by 4 people
$20,000 goal
Linda Linley
Transplant Type: LVAD
What if you were living on borrowed time?
Linda Linley is fighting for her life. In 2004, she was diagnosed with Congestive Heart Failure. This came as a shock since she doesn't have any family history of this condition. Now doctors say an LVAD implant is critical to her survival.
This has been an extremely challenging time for Linda and her husband, Mick. Before her health began to decline, Linda enjoyed taking walks, playing with her grandkids, riding motorcycles, and working in her yard. These days, her activities are limited. She dreams of being active again and spending more quality time with Mick and their family and friends, and she would love to be healthy enough to travel. More than anything, she simply wants to lead a normal, healthy life. But right now, she needs your help.
Unfortunately, Linda's hope for a new life comes at a very high price.
The average LVAD procedure costs over $250,000. And that is only the beginning. Even with health insurance, which will cover some of the costs, she still faces significant medical expenses related to the surgery.
Linda must travel more than 130 miles to reach her transplant center for evaluations and doctors' appointments. When she receives her transplant, Linda and her caregiver will need to stay near the hospital during recovery, incurring substantial expenses for travel, food, and lodging, adding to the financial strain.
You can help by making a tax-deductible donation to the National Foundation for Transplants in honor of Linda.
If you'd prefer to send your gift by mail, please send it to the National Foundation for Transplants, 3249 W. Sarazen's Circle, Suite 100, Memphis, TN 38125. Please be sure to write "in honor of Linda Linley" in the memo line.
Thank you for your generosity!
Transplant Center: Integris Baptist Medical Center (Transplant Center)
If you have any questions about The National Foundation for Transplants, feel free to contact the staff at 800-489-3863.