Eric Epstein's battle with CKD-Chronic Kidney Disease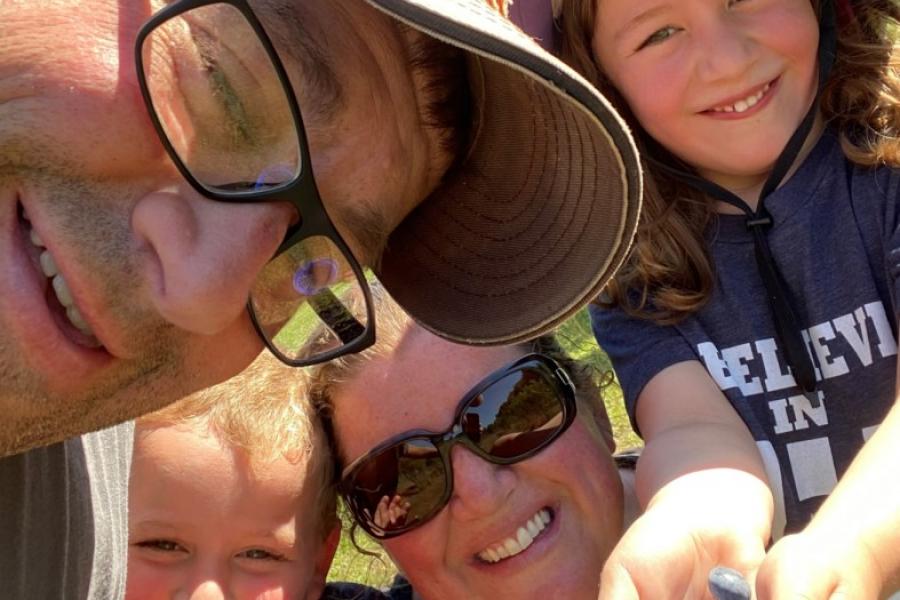 $93,023
raised by 312 people
$100,000 goal
Eric Epstein
Transplant Type:  Kidney
My story:
I was diagnosed with Chronic Kidney Disease a little over two years ago- a day that me and my family will never forget.  I have always been a big man and did not have a good understanding of how my lifestyle choices and genetics could conspire to leave me chronically ill.  I met my wife later in life and we married about seven years ago.  It was only after I got married and had my first child that I began to understand how to take care of my health.  Unfortunately, by that time, most of the damage had been done. I was afraid to hear what the doctor would say and so I continued to avoid seeking medical advice on my health.  When my wife became pregnant with our second child five years ago she was diagnosed with gestational diabetes.  I was worried about her and the baby and that is when I understood how worried she must have been about me.  I started by taking my blood sugar and the results were so alarming that I went to see a doctor immediately.  The doctor sat me down and told me how ill I was- he said I needed to get my kidneys checked.  Soon afterwards, I was told I needed a kidney transplant to live.

Since then, I have followed the advice of my doctors. I have had gastric surgery to lose weight. I lost 100 pounds!  My diet and exercise have changed.  I am committed to turning this around and living a full life with my family.  However, the only thing that will ensure my survival is a new kidney.

My wife's name is MaryEllen.  She is a middle school  teacher and has spent 20 years at the same school dedicated to teaching science to sixth graders.  She always tells me that she knew we were going to get married during our first date.  We have two small children.  Our daughter is six and our son just turned four.  Both of my kids love to be outside and help us around the house.  They also like to play with our 9 month old rescue dog, Molly-Moo Sparkles.

Our house is also part of our family. We live in an older home that fell into disrepair before we started our married life there together.  We have poured our family's hard work and love into our home, restoring and renovating it with the help of neighbors and friends.  We celebrated our wedding in our backyard and will cherish that day forever.

My greatest joy is playing with my children.  We live near the Appalachian Trail and I used to take my children hiking.  I no longer have the energy to take them hiking.  I also love working on my home but I am not physically able to take on the heavy labor necessary to do additional renovations or take care of the property myself.

I also get great joy from my small community and volunteer in many capacities. I have been a volunteer fireman since I was a teenager and was also the fire chief for thirteen years.   Also, I am the  president of the Litchfield County Dispatch (LCD) Board of Directors which oversees the local 911 emergency dispatch center in Northwest Connecticut.  I am also a  volunteer Emergency Medical Responder (E.M.R.) and used to be on call every Tuesday night.  I am no longer able to volunteer at night because of the time needed for daily dialysis.  I am a member of the School Safety Committee and am involved in many committees in the volunteer fire department.

My diagnosis has had an enormous impact on my family.  I am no longer able to participate at the same level in the Fire Department.  My ability to spend quality time with my children, running around the backyard and playing is limited.  I also need to be on dialysis in a controlled environment every night for 9 hours- leaving my wife to care for our kids, puppy  and the house full time.  I feel as though I am watching my family's best years slip away because of my illness.
I can still volunteer in some capacity- especially now that many meetings are being held virtually and events have been cancelled- but many of my volunteer activities involve services that are critically needed during this time and I can't contribute in the same way that I used to before my diagnosis.

My biggest worry right now is how my wife will be able to take care of everything while I am sick.  I look forward to giving her some time to take care of herself and taking away the worried look on her face.  I want to play with my carefree children and make plans for our future.

I am asking for your help.  If I am able to get a kidney, my wife and I will need to relocate for a minimum of three months.  We live in Connecticut and the hospital is 1200 miles away and will require travel.  We will not be able to see our children and my wife will be unable to take any trips home because of COVID-19.  I will have to take medicine daily to suppress my immune system so that my body will not reject the new kidney.  My wife will need to take an unpaid leave of absence so that she can help me recover from the transplant.  After talking with the doctors and social workers we found out the average kidney transplant costs over $440,000.00.

I know times are tough for everyone but I need to ask for your help. Any donation you can make would be greatly appreciated.   On the advice of the transplant team we have partnered with the "National Foundation for Transplants"  to help us with our financial needs.  With their help 97% of your donation will go directly to my medical costs.

UPDATE: (from Mary) We got the call on Friday night that there was a kidney match for Eric at Albany Medical Center in New York.   Needless to say it was a sleepless night waiting for the call back to see if this was going to happen.   Eric went into surgery yesterday and is doing well.   First and most importantly, we want to send our condolences to the family of Eric's donor on your loss.  There are really no words to descibe  what we are feeling.   I hope the fact that with her passing  two people recieved the gift of life will comfort  you through this difficult time.  You will be in our thoughts and prayers forever.  
Thank you to our friends and family for your support and contined prayers.  Eric is in good hands at Albany Medical Center.  The doctors and nurses are wonderful!  
Information from the National Foundation for transplants: 
You can help by making a tax-deductible donation to NFT in honor of Eric. If you'd prefer to send your gift by mail, please send it to the NFT Connecticut Transplant Fund, 3249 W. Sarazen's Circle, Ste 100, Memphis, TN 38125. Please be sure to write "in honor of Eric Epstein" in the memo line.
Thank you for your generosity!
Transplant Center:  Advent Health