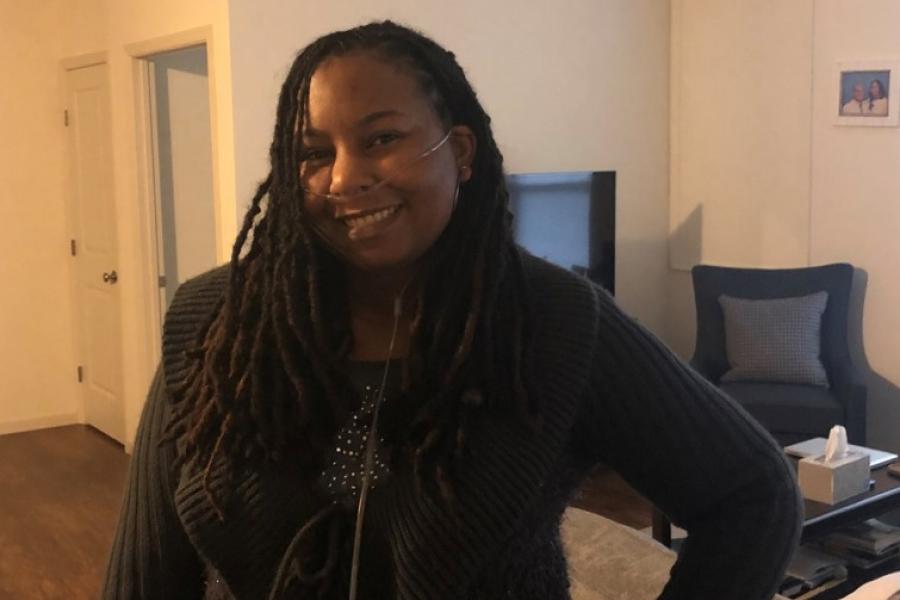 $33,532
raised by 216 people
$40,000 goal
Brittany Dancy Caro
Transplant Type: Double Lung
View a full list of contributors to Brittany's campaign here.
Update: It has now been exactly 8 weeks since surgery. Brittany has made tremendous progress. She is becoming stronger day-by-day and week-by-week. She has been oxygen free for 6 weeks. She is walking further distances and completing her activities of daily living unassisted. She still has a ways to go on the journey to recovery. We will continue to update you on her progress. We thank you for your continued prayers and support.
Update: Late Thursday evening - September 5, 2019 - Brittany received a call from Johns Hopkins hospital, informing her that a donor match had been identified. Her double lung transplant surgery began before sunrise on Friday, September 6 and was a tremendous success! Brittany was transferred from ICU to regular room on Saturday, September 14.
We will continue to update you on her progress, as she has a very long road of recovery ahead. We thank you for your continued prayers and support.
Update: What an outpouring of love! As of July 2019, Brittany has met her first benchmark goal of $25,000! We are blown away by your support, but our work isn't over. Brittany continues to be monitored by the transplant team at Johns Hopkins as she waits for the call that lungs are available for her. It is important that she has funding in place so that once she receives her transplant and begins the lengthy recovery process, she can focus on her health and not worry about her finances. Thanks to your generosity, her first fundraising milestone has been hit! Brittany and her loved ones are so thankful for your support and hope they can count on you throughout her transplant journey. Brittany Dancy Caro is awaiting a new lease on life. During the fourth year of her doctoral program, she developed a cough she couldn't shake.
After visiting various doctors and undergoing testing, she was finally diagnosed in 2016 with interstitial lung disease/pulmonary fibrosis with an underlying mixed connective tissue disease. Her diagnosis came as a shock, as she was only 27 at the time of her diagnosis, and had been previously healthy. Brittany's lung function has declined since her diagnosis and she requires the use of supplemental oxygen to help her breathe. Doctors say a double-lung transplant is critical to her survival.
During this difficult time, Brittany is thankful for the love and support of her husband, Reuben, and their family and friends. Brittany and Reuben had only been married for a year at the time of her diagnosis, and her declining health has prevented them from adding to their family. For now, their focus is on her health, although they hope to eventually have the opportunity to become parents. Brittany looks forward to receiving a transplant that will free her from supplemental oxygen and allow her to live her life to the fullest. She works as a licensed psychologist, providing therapy to adolescents, adults, and families, and while she loves her position, her health makes it so that she has to constantly monitor her caseload so she does not overtax her body.
Brittany is passionate about her work, and not being able to help more people is difficult for her. She enjoys going for walks, exploring the city, traveling, and exercising—but her health prevents her from being as active as she'd like. Brittany wants nothing more than to be healthy so she can travel with her husband, expand her family, and build her career. But right now, she needs your help.
The average double-lung transplant costs more than $1 million, and that's only the beginning. Even with health insurance, which will cover a portion of the transplant costs, she faces significant expenses related to the surgery. For the rest of her life, she will need follow-up care and daily anti-rejection medications. Post-transplant medications are very expensive, and they're as critical to her survival as the transplant itself. Brittany lives 80 miles from her transplant center and has to travel back and forth for appointments.
When she receives her transplant, she will have to temporarily relocate to be nearby while she recovers, incurring substantial expenses for travel, food, and lodging.
You can help by making a tax-deductible donation to NFT in honor of Brittany. If you'd prefer to send your gift by mail, please send it to the NFT Pennsylvania Transplant Fund, 3249 W. Sarazens Circle, Suite 100, Memphis, TN 38125. Please be sure to write "in honor of Brittany Caro" on the memo line.
Thank you for your generosity!